Youth Participation in the Decision Making Process Webinar for Advisors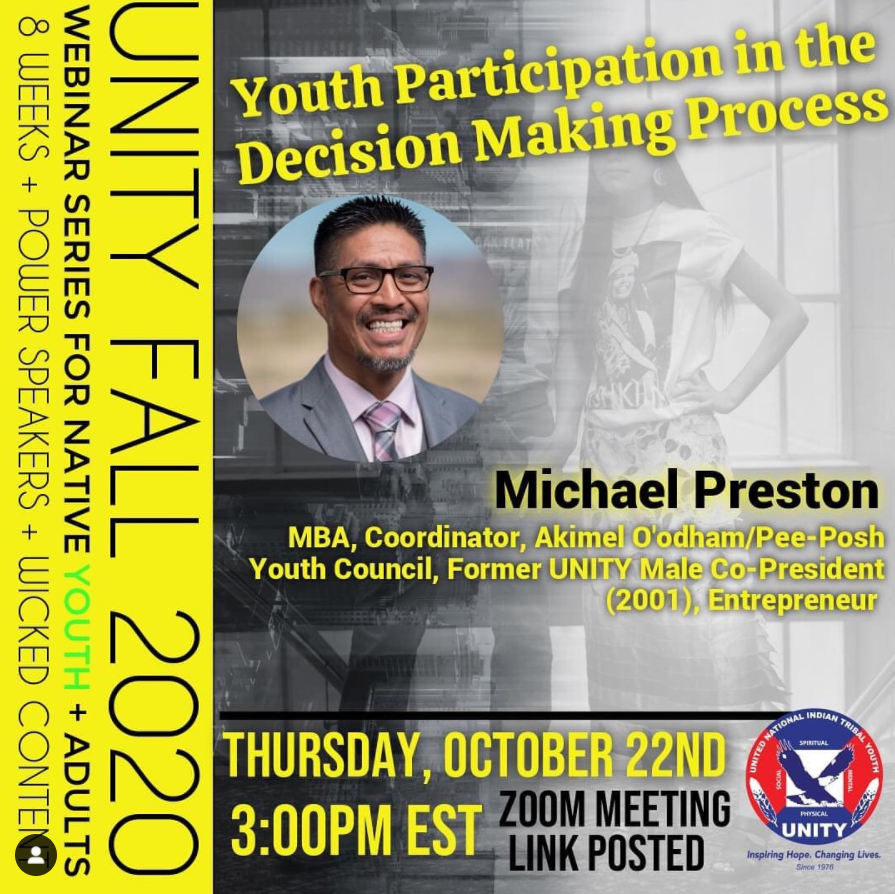 Join us this Thursday afternoon for another UNITY Webinar with Greg Mendoza & Michael Preston MBA, Coordinator, Akimel O'odham/Pee-Posh Youth Council, Former UNITY Male Co-President (2001), Entrepreneur.
The eight-week webinar series will be sponsored in part by Comcast NBCUniversal and Nike N7. A November webinar will be sponsored by Nike N7 as part of their commitment to National Native American Heritage Month. The remaining webinars will take place on Tuesdays (youth-focused topics) at 1 p.m. PST or 3 p.m. PST, and Thursdays (adult-focused topics) at 12 p.m. PST, and will be conducted via Zoom or Instagram. Click below to Register for the upcoming online learning opportunities.
Adult Webinars:
Thursday, October 29, at 12 p.m. PST / 3 p.m. EST – Building Community Support for Youth Councils
Thursday, November 5, at 12 p.m. PST / 3 p.m. EST – Guiding Youth Council Meetings
Thursday, November 12, at 12 p.m. PST / 3 p.m. EST – Best Practices in Youth Council Development
Thursday, November 19, at 12 p.m. PST / 3 p.m. EST – How to Host Virtual Events for Native Youth
Thursday, December 3, at 12 p.m. PST  / 3 p.m. EST – Digital Storytelling: UNITY TikTok & Video Communications for Native Youth
For more information on this Fall webinar series and the Youth track registration links visit: https://unityinc.org/unity-announces-series