Workshops Announced for 2017 National UNITY Conference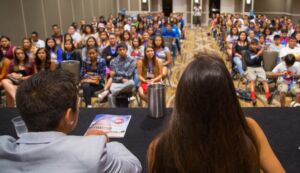 Among the many exciting events and programs taking place at this year's national conference are the workshops being presented on Sunday, July 9. Attendees will have more than 40 different workshops to choose from.
Topics for the workshops are included in one of four sections; Career, Culture, Environment and Health.  In the Career section, youth Peer Leader and UNITY  25 Under 25 past recipient Claullen Tillman (Eastern Shoshone) will do a presentation on customer service and how to apply these skills in the hospitality and gaming industries, now located on or near many reservations across the country.
The Mvscogee Nation Youth Council will be doing a presentation under the Culture section of the workshops that describes their traditional Stomp Dance and they use this important part of their culture to live balanced lives.
Included in the Environment section, brother and sister youth activists Journey Zephier and Rainbow Zephier (Yankton Sioux) will share updates and information about their ongoing legal battle against climate change with their lawsuit that names the federal government and fossil fuels industry as the defendants.
In the section dedicated to Health, the UNITY Wellness Warrior project will conduct several sessions on ways to become and stay physically active, while still having fun and expressing Native pride.
Below are the titles of the workshops slated to be offered this year, along with the presenters/organizations:
Native Youth Multimedia Workshop – Barcid Foundation
Applying To College Made Easy – American Indian College Fund
How to Find And Win Scholarships – Catching the Dream Scholarship Program
"Preserve Culture!" Careers In Cultural And Historic Preservation – Advisory Council on Historic Preservation
Overcoming Adversity And Creating Community Change – Rory Wheeler
Empowerment Saga-Comic Book Series-Financial Management – Rose Red Elk
The Internet Wants YOU: Choose A Career In Cyber – Office of Cybersecurity & Communications, Department of Homeland Security
Youth Activism And Resiliency Amongst Indigenous Peoples – Layha Spoonhunter
Customer Service In Indian Country – Claullen Tillman
Youth Entrepreneurship Through Music And Art – Olivia Komahcheet
College Resources For Native Students – Northern Arizona University
Tribal College Information Panel – Institute of American Indian Arts
Legal Frontline: Youth Vs. The United States Of America And Fossil Fuel Industry – Journey Zephier/Rainbow Zephier
Savings And Investing: Risks, Rewards And Value of Saving – Bank of America
What Is UNITY? How To Start A Youth Council And More! – UNITY Staff
Sustaining The Stomp Dance Traditions – Mvscogee Creek Youth Council
The Tribal College University Stepping Stones – Haskell Indian Nations University
Native Whose Line Is It Anyway: Laughter As Medicine And Pedagogy – Native Roots
Share Your Story, A Creative Writing Workshop – Scholastic Art and Writing Awards
"The State Series" Native Youth Author – Snuff Productions
Raising Your Voice: Digital Storytelling to Create Change – Samantha Eldridge
Native Like Water: Youth Advocacy For Water – InterTribal Youth
Ancestral Lands – Native Youth Restoring The Environment – Ancestral Lands Program
Looking Ahead – Appreciating the Journey NOW – White Mountain Apache JOM Program
Wellness Warriors of Native STAND (Students Together Against Negative Decisions) – Yakama Wellness Coalition
We R Native: Maintaining Resiliency through Leadership – We R Native
You Only YOLO Once – Wavema Wellness
Human Trafficking Awareness Among Native American Youth – Methodist University
Addressing Substance Abuse In Our Community – Young River People's Youth Council
Let's Talk About HIV- Where Are We Now, And Where Do We Want To Be? – National Indian Health Board
Native Love – National Indigenous Women's Resource Center
NCAI Youth Commission – National Congress of American Indians
Sex Trafficking of the Indigenous – Not Our Native Daughters
Creating Your Ideal Non-Profit Advisory Board – UNITY Trustees
Learn How To Sing The UNITY Song – Michael Killer and Junior Sierra
Taking The UNITY Fire To Your Community – Sleepyeye LaFromboise, Kevin Bonds, Eshtakaba LaFromboise and Sheldon Smith
Child Welfare – Casey Family Programs