Thank You TNL: Best Wishes to Two UNITY Staff Members
The Today's Native Leader's national youth leadership initiative, a four-year cooperative agreement between UNITY and the US Department of Justice, Office of Justice Programs, Office of Juvenile Justice and Delinquency Prevention (OJJDP), concluded on September 30, 2017. The successful project was designed to offer regional and national training and learning opportunities for American Indian youth to increase positive outcomes in their school, community and family environments. The program was led by Wendy Weston, Program Manager, and Lynnann Yazzie, Program Coordinator.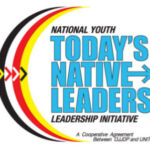 "UNITY is very appreciative of its partnership with the Office of Juvenile Justice and Delinquency Prevention (OJJDP) for the Today's Native Leader's (TNL) Initiative. Thanks to the leadership of Program Manager Wendy Weston and Program Coordinator Lynnnann Yazzie, hundreds of Native youth received valuable training to help them identify top priorities in their communities, and design and complete service projects to address those priorities. We wish Wendy and Lynnann all the best as they move on to other endeavors."
A total of nine (9) TNL webinars including "Learn How To Shine in Front of an Audience! Prepare a Top-Notch Presentation With Some Simple Tips From Experts" are still available for viewing!