Strengthening Sovereign Responses to Sex Trafficking in Indian Country and Alaska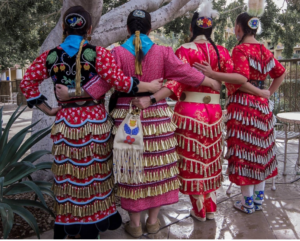 On behalf of the U.S. Department of Justice, Office on Violence Against Women, the Minnesota Indian Women's Sexual Assault Coalition, Mending the Sacred Hoop, Men as Peacemakers, and the Tribal Law and Policy Institute; we would like to extend an invitation to attend the Strengthening Sovereign Responses to Sex Trafficking in Indian Country and Alaska Conference, at El Conquistador Tucson, A Hilton Resort; located in
Tucson, Arizona, January 28-30, 2020.
An opportunity to strengthen alliances by bringing together Tribal Leadership, our Federal partners, experts in the field, and our tribal communities to better address the safety of our children, women, and men.
Sessions include: workshops to assist with program and agency with information regarding sex trafficking in Indian Country, implementations, and highlighting key issues to improve response to American Indian/Alaska Native Survivors of sex trafficking. Breakouts by disciplines, working with LGBTQ2S, Two Spirited, women, men, and child survivors.
Who Should Attend: Service providers working with American Indian/Alaska Native Sex Trafficking Survivors. Tribal Government Program Grantees, Tribal Leaders, Indian Gaming and Hotel Staff, advocates, health professionals, law enforcement, prosecutors.