Join the National UNITY Council

Become part of UNITY's 
National Network to promote personal growth, citizenship, and leadership among Native Youth! 
UNITY Annual Membership is effective from July 1-June 30 of each year. 
UNITY Membership
Youth Councils and Individual Members may join the UNITY Network when completing an Annual Report. 

STEP 1: June 16, 2021 the Youth Council and Individual End of the Year Online Reports are Due (only online reports are accepted)
https://forms.gle/zRRZSvXUE5mZDegZ8 
Note: Individuals fill out the same link, just put N/A in the questions that don't apply to you.
Note: One Youth Council will be selected for the UNITY Youth Council of the Year Award based on these reports

STEP 2: June 16, 2021 UNITY Membership Dues are due:
3 ways to Pay: 

Youth Councils has chosen to pay with dues at the same time as their Registration this year through the online registration company. Questions? Call:

985-240-5511 

Email: 

UNITY@american-tradeshow.com

Members can also mail their checks or money orders payable to:

UNITY, Inc., 953 E. Juanita Ave. Suite C Mesa, AZ 85204

(If payments are "on their way", members must be able to provide proof/documentation that payment has been sent).

Pay Dues Online Here: 

https://unityinc.org/donations/financial-contribution-to-unity-inc/
Note: 

Only those who pay before June 16, 2021 will be able to vote and participate in the National UNITY Council Business Meeting during the National Conference

.  

On-site Membership Payments will only allow members to vote during the 2022 National UNITY Conference. (This allows adequate time for the Accounting Department and Registration to provide an accurate list of paid Membership to everyone) 
For more Information on eligibility requirements, please read the online petition form in its entirety.  Should you have any other questions or concerns, please do not hesitate to contact Greg Mendoza at g.mendoza@unityinc.org or at the UNITY office (480) 718-9793, or the current members of the Executive Committee.

To Apply as a NEW Youth Council or Individual Member:
New Youth Councils will be asked to submit Constitution, By-Laws and Resolution Letter for a sponsor. Templates of these needed documents can be found in the step-by-step guide.
Individual membership requirements:
American Indian, Alaska Native or Native Hawaiian
14-24 years of age
Youth Council membership requirements:
Group of American Indian, Alaska Native or Native Hawaiian
14-24 years of age
Sponsoring Agent (Tribe or Organization).
Constitution and By-Laws
If you have questions, please contact the UNITY Headquarters at 480-718-9793 or email Joshua Tso at j.tso@unityinc.org
---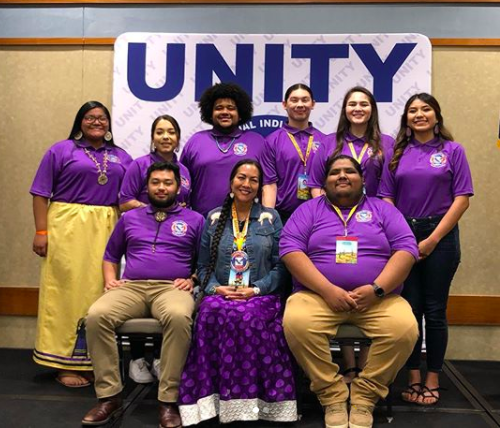 Native American youth can make a difference, but first they must be organized and prepared for action. An effective way to accomplish this is through a youth council.
A youth council represents a practical way of enabling youth to have a meaningful role in helping solve community problems. Types of youth councils include:
Tribal Youth Councils
Alaska Native Village Youth Councils
Urban Youth Councils
High School Indian Clubs
College or University Native American Associations
A Church-sponsored Youth Group
An Independent Youth Group
Keep in mind that youth councils are just as diverse as Native America itself. Each youth council maintains its own identity and is built upon the needs and values of that particular community.
By being involved with a youth council, young Native Americans can use their combined talents and energy to address major concerns facing them today. Youth design and promote their own programs to fit their needs.
Young people who are involved with youth councils learn to accept responsibility. They grow through achievement and in the knowledge that they are making a real contribution to their community and to Native America.
Find out more about the Benefits of Joining a Youth Council, What a Youth Council Does, and Steps for Organizing a Youth Council. Download the "How to Start a Youth Council" packet by clicking HERE.