National Native Youth Leadership Conference Breaks Attendance Record
More than 2,000 gather in Denver, Colorado for 41st annual UNITY conference
Traveling from tribal and urban communities across the nation, and from far away as the Hawaiian Islands, Alaskan Native villages and the island of Taiwan Republic of China, more than 2,000 registered attendees converged in Denver, Colorado for the United National Indian Tribal Youth's (UNITY) annual national conference. The 41st annual youth leadership development conference, infused with culturally relevant content, was held July 6-10, 2017 at the Colorado Convention Center; it was the largest gathering in the organization's history.
"We are ecstatic about the turnout this year," said Mary Kim Titla, UNITY's executive director. "Going into the conference we knew we would be close to record numbers. We are so grateful to all our attendees this year, as well as our speakers and presenters, sponsors, local planning committee, exhibitors, and the wonderful conference staff and volunteers who contributed to a successful and meaningful leadership conference for our Native youth," added Titla.
The 5-day event kicked-off with the lighting of the UNITY Fire, a sacred and safe place for cultural sharing and healing for young and old alike, which symbolically marks the beginning of the national conference, along with the parade of nations where youth proudly represented their tribal nations in traditional regalia. With a theme of Finding Wellness and Healing within Our Cultures, the packed agenda featured an impressive line-up of nationally renowned speakers who engaged attendees in thought-provoking and inspirational dialogue and presentations. Speakers included top-ranked Iroquois National lacrosse players, the Thompson Brothers (Jeremy, Miles, Lyle and Hiana), Standing Rock Sioux Tribe Chairman, David Archambault II, artist Steven Paul Judd (Choctaw), former Vice Chairwoman, Deborah Parker (Tulalip Tribes), documentary filmmaker, Myron Dewey (Paiute/Shoshone), and the City of Denver Mayor, Michael Hancock.
Conference participants also joined in the launch of the UNITY Wellness Warriors App, a first-of-its kind app designed to help you track wellness from a cultural perspective – fitness through cultural dance, healthy eating with traditional Native foods, and more. The app, developed with input from Native youth, is free and is available via the App Store and Play Store.
UNITY's 2017 all-star leadership training team included Robert Johnston (Choctaw/Muscogee Creek), Juanita Toledo (Jemez Pueblo), Chance Rush (Three Affiliated Tribes – Hidatsa/Arapaho), Marcus "Emcee One" Guinn (Osage/Potawatomi), and Denise Yazzie (Navajo).
Each year, the youth leaders address many social issues impacting communities across the nation. This year the Indigenous H.E.R.O. Project (Honor, Empower, Respect, and Overcome) was presented by the National UNITY Council's Executive Committee as their key initiative for 2017-2018, addressing the bullying epidemic and providing hope, prevention, and healing.
Additional conference highlights included the formal recognition and introduction of UNITY's 2017 class of Earth Ambassadors, a cultural presentation by the Taiwanese aboriginal youth group, morning fitness activities, cultural exchange and talent show nights, a presentation by Thosh Collins (Onk-AkimelO'Odham/ Haudenosaunee) and Chelsea Luger (Lakota and Ojibwe) with Well for Culture, plus dozens of workshops and training sessions for attendees to choose from. More than 45 vendors and exhibitors, ranging from college and career organizations to Native American artists, engaged with attendees during the 5-day conference. The Denver local planning committee, led by co-chairs Lucille Echohawk (Pawnee) and Patrita "Ime" Salazar (Santa Ana Pueblo), organized two popular events, the UNITY social pow wow and 3-on-3 basketball tournament, both held at neighboring Metropolitan State University of Denver. The conference ended with the annual UNITY gala celebration and dance, with entertainment provided by actor and comedian Tatanka Means (Oglala Lakota/Diné), and the extinguishing of the UNITY Fire.
During the conference, the annual National UNITY Council (NUC) Business Meeting took place where UNITY youth council members elected new leadership for 2017-2018, representing the UNITY organization as the NUC Executive Committee. The new officers were officially sworn into office at the UNITY gala celebration on the final night of the conference. They are:
Male Co-President – Hamilton Seymour (Nooksack Indian Tribe) (serving a second term)
Female Co-President – Sophie Tiger (Comanche Nation of Oklahoma)
Regional Representatives:
Great Plains – Joshua Tuf Iron Shell (Rosebud Sioux Tribe – Sicangu Lakota)
Midwest – Mary Shabanaa Bush (Gun Lake Tribe)
Northeast – William Mosely (Nanticoke LenniLenape Tribal Nation)
Northwest – Robert Scott Miller (Swinomish Tribe)
Pacific – Tashoni Morales (Tachi Yokut/ Western Shoshone)
Rocky Mountain – Jacob Hugs (Confederated Salish and Kootenai Tribes)
Southeast – Richard Blakeland Crook (Poarch Band of Creek Indians)
Southern Plains – Brittany Faith McKane (Muscogee Creek)
Southwest – Teran Anfernee Villa (Pueblo of Jemez)
Western – Joseph Davis (Akimel O'odham)
UNITY also recognized and presented awards to:
Golda Cook $1,000 Memorial Scholarships: Zackary Jackson (Saginaw Chippewa Indian Tribe of Michigan) and Savanna Rilatos (Confederated Tribes of Siletz)
Cook Native American Ministries Foundation $1,000 Scholarships: Christie Wildcat (Northern Arapaho) and Amberly Proctor (Muscogee Creek Nation)
UNITY Youth Council of the Year:  Nḱʷucin One Voice UNITY Council – Flathead Reservation, Montana
J.R. Cook Youth Advisor of the Year:  Nancy Mason (Muscogee Creek) – Mvskoke Creek Youth Council, Oklahoma
Eddie Wadda Alumni of the Year:  UNITY Drumkeepers: Isidoro "Junior" Sierra (Cherokee Nation) and Michael Killer (Cherokee Nation) both of Tahlequah, Oklahoma
The San Manuel Band of Mission Indians was the 2017 National UNITY Conference presenting sponsor, with additional support from the Shakopee Mdewakanton Sioux Community, W.K. Kellogg Foundation, Ft. McDowell Yavapai Nation, Table Mountain Rancheria, Metropolitan State University of Denver, Bank of America, San Carlos Apache Tribe, Muscogee Creek Nation, Tulalip Tribes, Casey Family Programs, Freeport-McMoRan Foundation, Agua Caliente Band of Cahuilla Indians, Tule River Tribe, Pechanga Band of Luiseno Indians, Cook Native American Ministries Foundation, Saginaw Chippewa Indian Tribe of Michigan, Seneca Nation of Indians, Yavapai-Apache Nation, The Mohegan Tribe, Salt River Pima-Maricopa Indian Community, National Education Association, the Office of Juvenile Justice and Delinquency Prevention, National Center for American Indian Enterprise Development (NCAIED), Nick Lowery Youth Foundation (NLYF), 12News, TEGNA, Health Choice Integrated Care, LLC, Comcast, American Indian Science and Engineering Society (AISES), Center for Native American Youth (CNAY), WeRNative, and the Ute Mountain Ute Tribe.
The Denver local planning committee was supported with sponsorships from the American Indian College Fund, American Indian Science and Engineering Society (AISES), First Nations Development Institute, Native American Rights Fund (NARF), National Native American AIDS Prevention Center, Rose Community Foundation, Denver Foundation on behalf of Kaiser Permanente, Bank of America Foundation, Ken Salazar, Ute Mountain Ute Tribe, RJS & Associates, Inc., Maynes, Bradford, Shipps & Sheftel, LLP, McElroy, Meyer, Walker & Condon, PC, Tilden & Toelupe, LLC, DJ Vanas, and Whiteing Law.
UNITY has announced the 2018 conference dates as July 5-9, 2018 at Town and Country conference center in San Diego, California. Title and major sponsorship opportunities for the 2018 national conference are now available. Exhibitor and Vendor space will be available beginning September 1, 2017.
The National UNITY Conference began with the lighting of the UNITY Fire which burned continuously during the 5-day conference.
Top-ranked Iroquois National lacrosse players, known as the Thompson Brothers, shared their personal story and provided words of inspiration.
The 2017/2018 National UNITY Council Executive Committee were elected during the annual business meeting. (Pictured left to right: Richard Crook, Robert "Scottie" Miller, Tashoni Morales, Teran Villa, Joshua Iron Shell, Joseph Davis, Jacob Hugs , Mary Bush, William Mosely, Sophie Tiger, Hamilton Seymour, and Brittany McKane)
UNITY youth councils from across the country, dressed in traditional regalia, participated in the Parade of Nations during the opening general session.
An Aboriginal youth group delegation from the island of Taiwan Republic of China provided a fun and interactive cultural exchange presentation, teaching the Native youth new dance moves.
Tribal royalty was in attendance, participating and representing tribal communities from east to west coast.
Well for Culture's Thosh Collins and Chelsea Luger gave a special presentation on cultural and traditional based health and fitness principles, helping to launch the UNITY Wellness Warriors App.
The popular cultural exchange night showcased Native you sharing traditional dances, storytelling, and singing.
Native youth proudly celebrated their heritage and traditions throughout the conference.
The annual UNITY 3-on-3 Basketball Tournament was a crowd pleaser with more than 40 teams competing.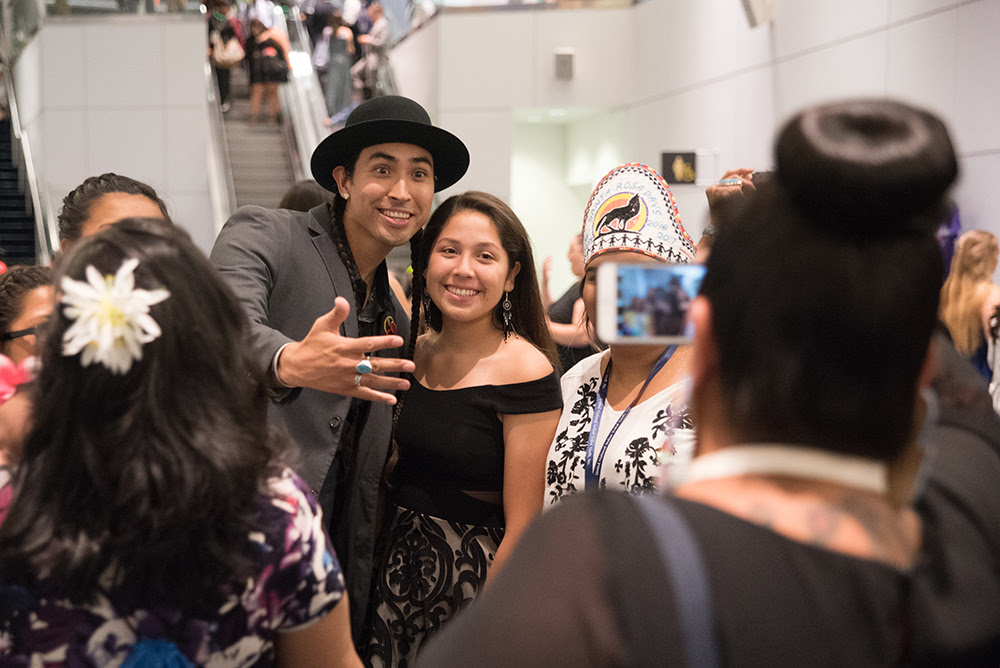 Comedian and actor Tatanka Means was a big hit with attendees as the opening entertainment for the annual UNITY gala and awards celebration.