Meet the 2019-2020 National UNITY Council Executive Committee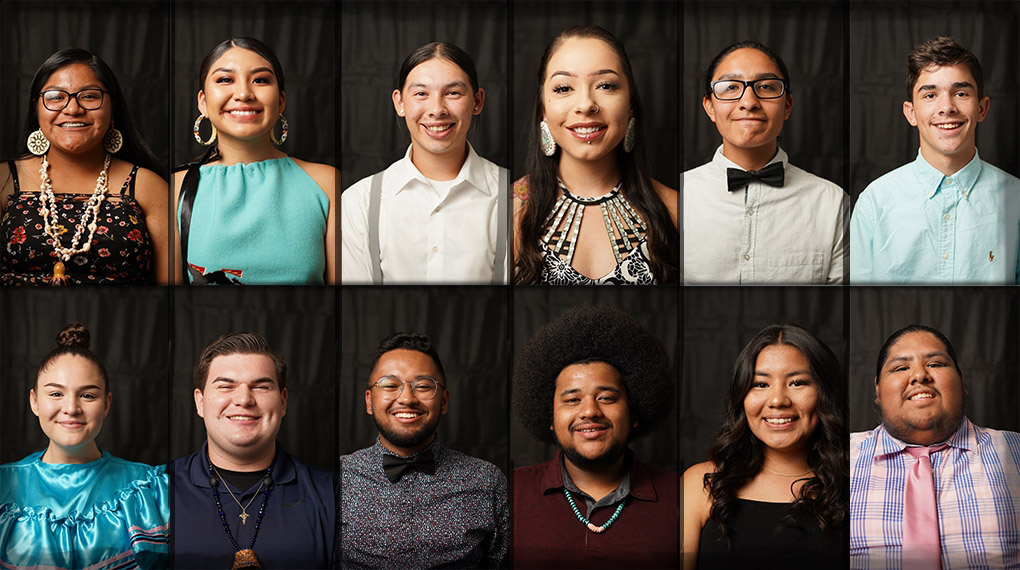 Tyloria Antone
Hello, my name is Tyloria Antone. I am 16 years old, and I attend Baboquivari High School as a Junior. I reside in the Hikiwañ community on the Tohono O'odham Nation, but I come from the Hualapai and Havasupai tribes of Peach Springs, AZ. I currently sit on the Tohono O'odham Nation Youth Council as a representative for my district. My interests include writing, reading, playing sports, and listening to music. I have always seen myself as a person to be involved by giving a helping hand to those in need. I always knew I could give my ideas and positive words to those who chose to hear what I had in mind. Over the years, I've seen myself grow and become a stronger person. An interest has grown in me and I knew I always wanted to be involved with youth, in order to be able to hear their stories and the great things that they make of themselves. Thank you!
Kristen Butcher
Miyaxwen Omun! Ne' netew Kristen Butcher. Natawpaxi nemichumi peta qunwicew. Ne' hen California-ngah. Ne' hen Sukutt Menyil ngah pen Torres Martinez-ngah i exi-s Kawia residruu-ngah. Hello, my name is Kristen Butcher and I am 19 years old. My hometown is Thermal, California. I proudly come from one of the many Southern California tribes, where I am an enrolled member of the Torres Martinez reservation. I am of the Desert Cahuilla and Lakota-Sioux people. My given name is Tashiinaskawin, meaning White Shawl Woman in Lakota. I currently reside in Tempe, Arizona where I am going to school for my bachelor's degree in Psychology at Arizona State University. I plan to use my degree to focus on behavioral health within Native communities, as well as to bring awareness to mental health and domestic violence. I am also the current Torres Martinez Sukutt Menyil Princess. I am an ambassador for the Native Love Organization of NIWRC (National Indigenous Women's Resource Center) where I travel across Turtle Island to bring awareness, and host workshops about domestic violence against Native women. I enjoy traveling, powwow dancing, and bird dancing. I strive to inspire youth, especially the ones closer to home, to keep our culture alive. I have grown up learning our language so I can teach it to the younger generation with the help of my grandmother. I also make sure our youth are being heard and represented by being a role model for my tribe and motivating our up and coming youth to challenge themselves and find passion in revitalizing who we are as indigenous California people.
Izaiah Fisher
My name is Izaiah Fisher. I'm currently 17 years old and I'm a member of the Confederated Tribes of Siletz Indians. I just finished my junior year at Willamina High School. This past year I was involved with extracurricular activities like Lacrosse, FFA, Junior Class Male Co-President, and Youth Council. This has given me great leadership experience and has let me expand my horizons. In lacrosse I served as Team Captain. In my FFA Chapter I'm currently serving as our Secretary. Within my Youth Council, I am a member. My first UNITY Conference was Denver in 2016. After my sister told me about UNITY, I became very interested in the values and lessons I could potentially learn in following years. During UNITY in Denver, I had the opportunity to emcee in front of many youth and to participate in the cultural sharing night. After Nationals in Denver, I fell in love with UNITY, emceeing, and the feeling of sharing my knowledge and culture with other tribal youth from all over Indian Country. At UNITY in San Diego, I had the opportunity to take on a bigger emceeing role, which was introducing the 2018-2019 UNITY Executive Committee. Also, for the second year in a row, I was given the opportunity to take part in the cultural sharing night. As the Northwest Representative, my main goal will be to increase participation and representation from Northwestern Tribes. Within UNITY, I feel like Northwestern Tribes are underrepresented, especially at the National Conference, because it goes on around the same time as Tribal Canoe Journey.
ArriAnna Henry-Matt
My name is ArriAnna Henry-Matt. I am 19 years old, and an enrolled member of the Confederated Salish and Kootenai Tribes of Montana. I am currently studying in Chemical Dependency Counseling to then major in Social Work to pursue my career and educational goals to inspire the Native American Youth in Indian Country. I am currently employed through the after-school program as a Youth Coordinator, where I can be involved with the youth in my community every day. I am currently a full-time intern through the Climate Change Strategic plan as a Peer Educator in the Social Sector. I served this last year on the United National Indian Tribal Youth (UNITY) executive committee as the 2018-2019 Rocky Mountain Area Representative, representing the youth in Montana and Wyoming. Through UNITY I serve thousands of Native American youth from across the United States and the organization throughout my term. I am also the Flathead Reservation Youth Representative for the Montana Native Youth Suicide Reduction Advisory Council, working to reduce the suicide rates in Montana. I also currently occupy a position as a substitute at the Nkwusm Language Immersion School. I serve as a WE R NATIVE Ambassador, promoting a successful lifestyle through fitness, culture, and language preservation. I have worked with the Kalispel Tribe of Indians the last three years, leading the youth portion workshop at the Salish Conference. My primary goal is to continue to motivate the youth in Indian Country by promoting positive and healthy lifestyle through language and culture preservation.
Elijah Landon
My name is Elijah Landin, I am citizen of Mandan, Hidatsa and Arikara Nation. My family on my mother's side is Arikara, Hidatsa, and Assiniboine. On my father's side is Dakota (Standing Rock) and Tlingit. I go to school at White Shield School. My mother is an advocate for Native youth, so I have been very fortunate to meet activists from all over Indian Country and attend many events surrounding our Native people. I enjoy playing basketball and dancing at powwows. Ever since I was a baby, I was in the circle as a grassdancer. Currently, I sit as the Vice President for our local Youth Leadership Council. I look for to this opportunity.
In my second year of attending UNITY, I feel that it is the duty of all us to make the change we want to see in our communities. I believe the youth, like me, are stepping up and seeking knowledge about our ways in order to heal our people. UNITY has given me the inspiration to take a look at my own community and think about solutions. I hope that this will inspire me to move forward and encourage me to better my leadership skills. I am outgoing but struggle with speaking in front of crowds. My hope is to overcome that fear and I pray that UNITY will help me. This is my intent as Great Plains Representative. Thank you for your time and support.
Kaiden McGhee
My name is Kaiden Nokvsvce Lee McGhee. I was born in Atmore, Alabama. I am the son of Malcolm McGhee, and Mindy and Nicholaus McGhee. I am an enrolled member of the Poarch Band of Creek Indians, and have been born and raised near the reservation all of my life. I am the youngest sibling out of two brothers and one sister. My dad has not been a consistent part of my life. Growing up with just my mom and my two brothers has not always been the easiest, but has also led to some of my best memories. One of the reasons I am running for Southeastern Representative is so I can help Southeastern tribes dealing with drug addiction and rehabilitation, looking towards prevention. Growing up, both of my older brothers became involved with drugs, and those times were the worst for me. Having family always fighting, and brothers getting in trouble, was not a fun time. I also want to work with my tribe on participation. I would like to see more youth my age participate in cultural events. I would love to see my tribe be drug and alcohol free one day. One of my goals is to show other tribal members that there are other ways to enjoy life without having to turn to drugs and alcohol. Being involved in our culture is a great way to avoid those negative influences. I want to see my tribe do something more with their time and energy than do drugs. I would like to see our tribal youth council do more community and cultural outreach and education, and to raise awareness on drugs. I believe in leading by example, and not being a follower. I am a very honest person and believe everyone has a voice in all matters, no matter how big or small. I want the youth in my community to see me being a positive role model and stepping up within the community, and them to follow building a stronger community for our tribe. I stand for more drug awareness for our youth and showing other positive outlets instead of turning to drug and alcohol use.
Brittany McKane
Brittany McKane is Muscogee (Creek) and Seminole, from Little Axe, Oklahoma. She is 23 years old and attends the University of Oklahoma, where she is Pre-Law, double majoring in Native American Studies and Anthropology, and minoring in Social Justice. Brittany is Female Co-President of the Many Nations Youth Council. She has served the last two years as the Southern Plains Representative, and for the last year as Vice President of the National UNITY Council Executive Committee. Brittany has served in various leadership positions since her involvement in UNITY, which began in 2015 in Washington DC at the National Conference. Since then, she has become deeper impassioned and motivated to assist in raising the collective consciousness of Native lifeways, values, and issues. She intends to pursue her academic education to the furthest extent, focusing on treaty law and Nation to Nation relations.
"For the past two years, I have served as the Southern Plains Area Representative. Within these two years, I have been able to witness and reaffirm the strength and resilience that exists within Indian Country—the heart of which is our youth. In this time, I have been honored and immensely blessed to represent these youth within the states of Oklahoma, Texas, and Kansas. So much of that representation relied on the individuals and youth councils within my region to give their honest feedback and express their most genuine concerns regarding the direction of our region, as well as UNITY as a whole.
"I believe these concerns should not only be heard and honored, but prioritized by the entirety of the leadership of an organization that only exists because of and for them, the youth. Because of the youth I have met and engaged with at UNITY, I have learned that leadership is a matter of knowing when and how to use the intellect Creator gave us to stand up for the earth and the people. In the position of Female Co-President, I will do my best to utilize the intellect I possess and the knowledge I have gained over my short life to stand up in every capacity for the youth who make this organization what it is. The National UNITY Council is an incredible network for all youth councils involved. Within this network exists a built-in national platform. It is my hope to elevate the work and dedication of the NUC EC to that of its full potential, utilizing that platform by representing the youth both to the UNITY Office and the International Community on pivotal concerns our Native youth are facing.
Robert Scottie Miller
His traditional name is Goliah, but everyone calls him "Scottie." He is 20 years old and a member of the Swinomish Tribe in La Conner, Washington. Scottie attends Everett Community College as a Track and Field student athlete. Prior to becoming UNITY's Male Co-President, Scottie served as the former Northwest Representative on the Executive Committee for the 2017-2018 term. In his spare time, he is a volunteer for the Younglyfe Organization, as well as volunteering for Deb Lekanoff's office of the Washington State Senate. Scottie stays involved with community events and issues, advocating for Higher Education, Drug and Alcohol Prevention, and Sustainability of Resources within his community.
William Mosley
Will Mosley is of the Naticoke Lenni-Lenape Tribal Nation from Bridgeton, NJ. He has previously been a member of the New Dawn Youth Council and Morning Star Leaders Youth Council. Will has also been President of the Native American Awareness Club at his high school and fought to be the first graduate to wear a feather at graduation. He has represented his people from up and down the East Coast to Arizona, and even to Ontario, Canada. Will has been a strong advocate for prioritizing Culture and Language within his community and other Nations. Recently, Will has organized a Lenape youth panel at the Lunaapeew Heritage Days in Moraviantown, Canada. For the past 5 years, Will has been participating in weekly Big House meetings discussing the importance of culture, traditions and the Lenapewosi lifestyle that he believes will help solve many problems within his community and the world. UNITY has helped bring out the best in Will and he hopes to return the favor.
"As the Northeast representative, I feel I have more work connecting my region before the next UNITY National conference. The very same place as my first conference. DC is also a place very close to home and to my ancestors. I would be a great candidate to help organize the upcoming National Conference and represent the local Indigenous tribes of the area."
Anthony Tamez-Pochel
Anthony's background as a Cree and Lakota has influenced his efforts to serve his community in Chicago. Through land-based education, Anthony works to ensure that the community does not lose its connection to the land, and helps community members plant medicine gardens in their own backyards to maintain that connection. Anthony began his involvement with the Center for Native American Youth (CNAY) in 2015, serving as a Youth Ambassador for President Obama's Generation Indigenous (Gen-I) initiative. In 2018, he was recognized by CNAY as a Champion for Change for his initiative aimed at confronting the misconceptions about Native peoples in Chicago and around the country and he currently services on CNAY's Youth Advisory Board. Anthony is currently attending Harold Washington where he is studying Public Policy and Social Work While working for the City of Chicago as an Aldermanic Aide with a focus on ordinances , Local Businesses, and Youth Projects.
"As UNITY's Midwest Representative, I believe that youth voice is needed across all levels of leadership. I believe that youth from across the Midwest have a right to have access to basic tool kits, to write and pass legislation in their communities which show the power and importance of youth in the policy. With UNITY's national platform I would also like to unite the Midwest Youth to form a regional Conference which will be free to all youth to attend (which would include housing, transportation, and meals), to strengthen our relationships with one another. As your representative, I promise to not fight for you but with you for visibility, funding, and the respect many youths aren't given because of the basis of their age."
Kiera Toya
Hello, my name is Kiera Toya. I am 18 years old and a proud tribal member from the Pueblo of Jemez. I am currently in my third semester of college at Central New Mexico Community College (CNM) majoring in Nursing, and plan to start my second year at the University of New Mexico (UNM). After receiving my degree, I plan to give back to my community and create a midwifery clinic for the women in the community. When I am not spending my time on my studies, I enjoy participating in traditional dances, traveling, sports, volunteering, and working out. I have attended three National UNITY Conferences and each year has been an amazing experience. UNITY has taught me to meet new people and learn how to get out of my comfort zone. Most of all, it has taught me to become a role model in different communities to encourage youth to learn their culture and participate in traditional prayer, song, and dances. Additionally, inspiring youth to live drug and alcohol free plus maintaining a healthy lifestyle by exercising daily. Within my culture I was able to have a number of role models who not only help me understand the significance of our language, songs and dances but supported me through education. Like everyone else I have gone through many obstacles in my academic and personal life but never stopped me from achieving my goals. Serving my 2nd year as Female Co-President of the Native American Youth Empowerment, I have learned a number of leadership skills such as communication, patience, commitment and being able to take initiative. I want youth to take in the issues that are happening around them and take a stand. Within the Southwest region, my goals are to get more youth representing from Colorado to attend a UNITY conference because it is life-changing.
Colby WhiteThunder
Hello! I am Colby WhiteThunder. I have been a part of the UNITY family since 2012. I am 21 years of age. I represent the Alabama-Coushatta Tribe of Texas. I am of the Daddylong Legs clan. I graduated from High School in 2016, then went on to Tyler Junior college for two semesters. Worked in a kitchen for a year, while taking a mental break from my education. I attended SAGU American Indian College. I now attend college in Phoenix, Arizona, at the American Indian College, where I plan to graduate with my bachelor's degree in business. After completing my bachelor's degree, I plan on obtaining a Master of Business Administration degree. With that degree, I plan to open a series of restaurants, consisting of traditional foods from several tribe across the US.