UNITY Letter to Advisors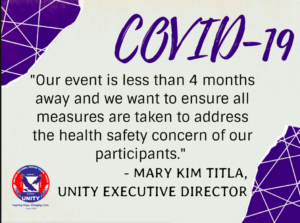 Greetings UNITY family and supporters,
As we all continue to monitor the emerging and rapidly evolving updates and news regarding the Coronavirus disease, also known as COVID-19, UNITY will remain actively engaged in discussions with the Marriott Wardman Park, the host hotel of our 2020 National UNITY Conference happening July 3 – 7 in Washington, DC.
Our event is less than 4 months away and we want to ensure all measures are taken to address the health safety concern of our participants. During our recent conversation with the Marriott Wardman Park management today, the following information was provided:
Marriott continues to monitor the Center for Disease Control and Prevention and the World Health Organization's statements regarding the novel coronavirus cases and following the guidelines from these agencies and the local health departments.
In addition to Marriott's standard processes, they have implemented the following:
Tripled the number of hand sanitizer stations strategically placed throughout the hotel for customers and associates.
Daily communication to internal associates through department stand up meetings reviewing the hygiene guidelines.
Increased cleaning and disinfection process across all high-volume touchpoints (ie. handrails, sitting areas, etc.), wiping down and sanitizing 3-4 times each day.
Partnering with customers on food and beverage options (plated, pre-packed items)
The safety and security of our conference participants is a top priority for our staff and Council of Trustees. In addition to the increased safety measures by the hotel, the UNITY conference planning team will be discussing and reviewing several options for a safe environment including promoting a "touch-free" conference with a "no-handshake" policy.
We are looking forward to another successful National UNITY Conference gathering this summer. Please stay connected through our social media channels and website for the latest on UNITY updates and news.
In UNITY,
Mary Kim Titla
Executive Director
United National Indian Tribal Youth Inc.
National Resources: