Call for Workshop Submissions
Are you interested in conducting a workshop at the 2017 National UNITY Conference?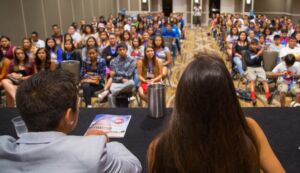 The 2017 National UNITY Conference is set to take place July 6 – 10, 2017 in Denver, Colorado. UNITY will draw more than 1,800 participants from across the country, representing tribal and urban communities. UNITY serves Native American and Alaska Native youth ages 14-24 years old. Your workshop content should be appealing and directed to youth in this age range.
Workshops will take place on Sunday, July 9, 2017. Each presentation is one (1) hour in length, with a total of three (3) workshops presentations.
There is high interest for Peer-to-Peer workshops. Youth and youth councils are encouraged to submit proposals.
Submissions will be accepted through Friday, April 14, 2017.